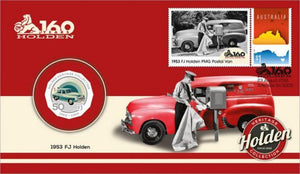 2016 PNC - 160 Years of Holden - 1953 FJ Holden
$5495

$54.95

Save $0.05
Tax included.
---
---
2016 Issue 18
Known at the time as the 'New Look' Holden, the FJ was essentially a revamped version of the first Holden sedan, the 48-215 (FX) released in 1948.
It quickly became part of the Australian way of life and the car most associated with the Holden image.
Good ground clearance, ride, rugged drivetrain energetic performance, comfortable seating for six, low maintenance, fuel economy and unbeatable value for money remained major selling points.
The FJ was available in three sedan versions - the Standard, the Business and the Special.
The first Holden Panel Van, based on the utility, with an elongated roof and an upper tailgate, made its debut in December 1953, and was soon utilised by the Postmaster-General's Department as a postal delivery van. 
Limited to 8,000